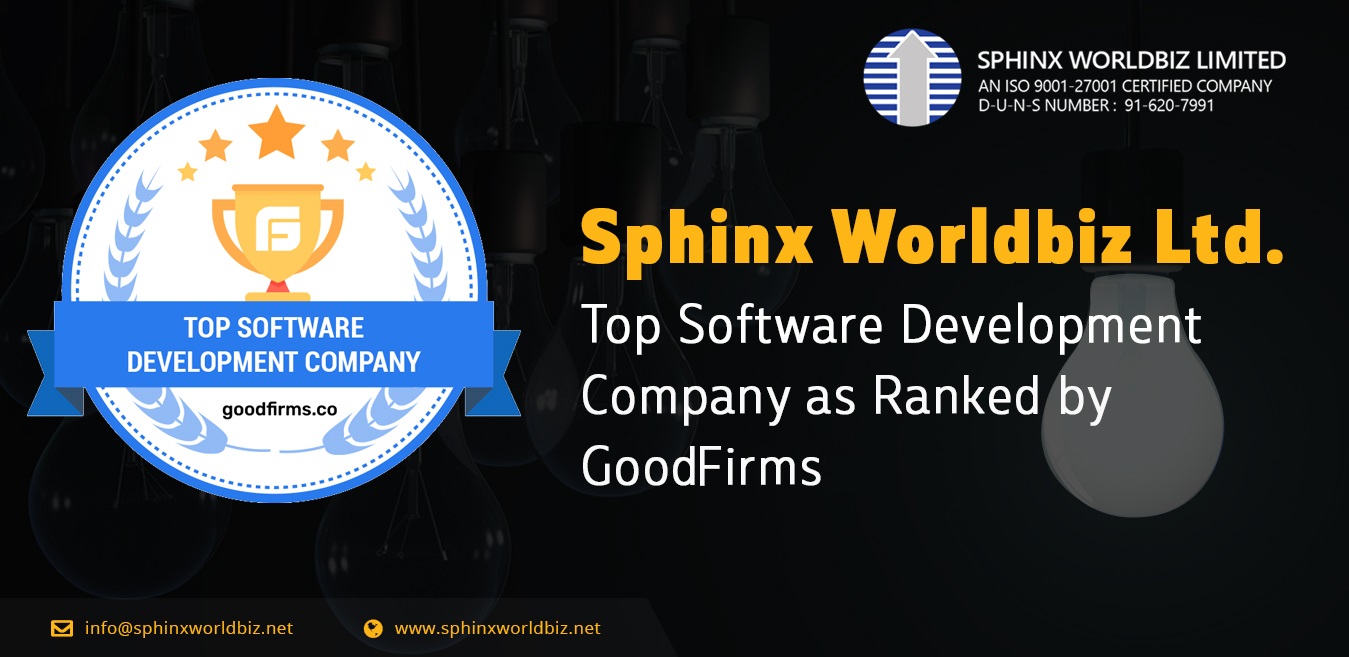 GoodFirms Ranks Sphinx Worldbiz as a Top Software Development Company
Bringing Innovative Solutions to Businesses Sphinx Worldbiz Tops Leader Board at GoodFirms
The tech-savvy world demands the latest software that can be used by organisations to shine in the business world. Using the latest technologies to keep businesses ahead from their competitors, it is imperative to create an impact in the market. Sphinx Worldbiz is a company offering excellent services in software development, artificial intelligence and mobile app development to help their clients win against their competitors. Owing to this credibility, GoodFirms, a USA based B2B Research and Reviews Company has listed Sphinx Worldbiz Limited as a Top Software Development Company on their leader-board.
About Sphinx Worldbiz
Established in 1996 and situated in India, USA, Germany, and the UK, the firm has so far completed many successful projects. Reputed for offering flawless customer experience, the company acts as a technology partner with many software companies globally. The company's exposure to varied industry segments has made them the first choice for prospects. The firm has leveraged its team competencies to strategically offer desirable results.
GoodFirms Research Methodology
GoodFirms is an online B2B platform that connects seekers and companies. This portal aids seekers to find the best software development company fitting their requirements. The companies registered at GoodFirms have to pass through an evaluation of Quality, Reliability, and Ability parameters. After evaluation, those firms that deliver outstanding results are added to the GoodFirms list of best companies. This, in turn, helps prospects find the right firm for their projects.
The evaluation process for Sphinx Worldbiz at GoodFirms was the same. GoodFirms found Sphinx Worldbiz doing exceptionally well in its services.
Offering Seamless Software Development Solutions
The integration of software development is pivotal to increase business productivity. With the increased digitisation, organisations are also motivated to integrate different software for specific needs. Offering world-class services in software development, Sphinx Worldbiz manages to cater to a wide customer group. The company offers a complete range of managed services and backend support.
Hiring a software development company is beneficial and a good investment decision for businesses looking forward to creating a powerful impact on customers. Every business is different in its respect to offering services. Thereby, it requires a company that understands the market phenomenon. Sphinx Worldbiz understands unique client requirements and develops software accordingly to give businesses a profitable return.
Customers are highly satisfied with the Sphinx offerings. Thus, giving positive reviews about them:
Carl Barck-Holst, CTO at ISAP Software AB has rated Sphinx Worldbiz 5-star based on their team support, attention to detail and on-time deployment of the product.
The proven track record and the result-driven team has made the firm make its mark amongst the top software development companies in Germany at GoodFirms.
Fueling Business Growth with Artificial Intelligence
Artificial intelligence has made operations easier by bringing revolutionary ideas. AI makes it possible to conceptualise and visualise things in advance. With intelligent solutions and lead generation, this technology is powerful and capable of enhancing operational efficiency. Sphinx Worldbiz blends a perfect combination of strategy and innovation to propel in the market. Few common uses of technology like voice-powered assistants have widened the approach for AI.
Sphinx Worldbiz understands how important it is to build powerful peerless customer service. Thus, the industry specialists of the firm are engrossed in performing tasks dynamically. The firm is flexible to change its plan of action according to the needs and requirements of either the client's niche or the changing trend. With AI changing the map of the world, the firm is matching the expectation with high-end technology.
Crafting smart strategies and consistently delivering commendable AI solutions, the firm has been ranked in the list of top AI companies in India at GoodFirms.
Transforming Businesses with Dynamic Mobile App Development
Companies are trying to successfully implement various digital technologies with proficiency in offering vast mobile app experience to customers. With an ideal mix of a streamlined process, agile delivery methods and domain expertise, Sphinx Worldbiz empowers businesses to achieve targets and connect with their target audience. It clearly knows the fact that the mobile app is the face of business today. Hence, it has become of the utmost importance to bring dynamic experience.
Sphinx has a highly motivated workforce that has good experience in delivering feature-driven mobile app solutions. With mobile apps becoming a way to empower customers, this firm provides services in verticals such as transportation & logistics, asset management, and customer relationship management.
The company is expected to emerge among the top app development companies at GoodFirms owing to their robust team and comprehensive app development methods.
Assess your business potentials and find opportunities
for bigger success