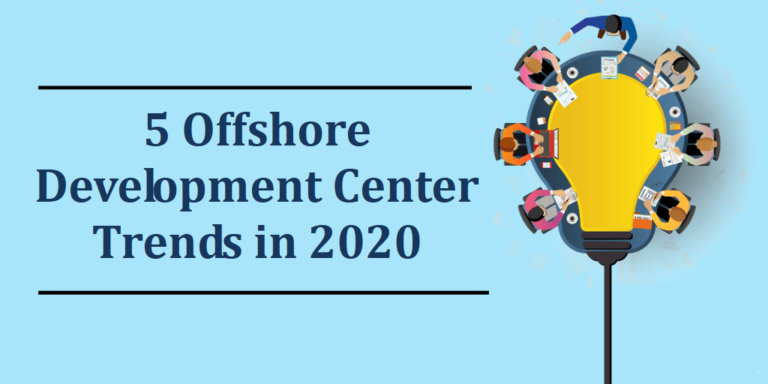 5 Offshore Development Center Trends to Lookout for in 2020
Offshore development center in India has become a mainstay for the technology companies around the world to let their business wheels churn. The concept of outsourcing services from a resourceful country like India has proved its essence to many organisations despite their size and service. It is interesting to note that what once seemed absurd when introduced in the late 90s to the world, today has become a norm for most American and European technology companies to function efficiently. According to Statista's report of 2017, the global offshoring and outsourcing market is expected to reach USD 88.9 billion. Over the years, we saw a radical shift from driving down operating to improved productivity, flexible services, round-the-clock services, and innovation.
All the research, survey and reports look out at a few ODC trends from the year 2020 onwards that we shall see which will greatly impact the dedicated offshore development centers in India as well as across the world. Whether you are an outsourcing company or a client, being updated with these trends will help in leveraging the benefits at best.
Better Data Security
Data security has always been the most concerned edge for clients seeking an offshore development center. To resolve this apprehension, companies are planning to take strict measures for their data safety in 2020 through secured firewalls, booting, and secured communication, and authentication mechanism.
New Offshore Centers
Over the years dedicated offshore development center in India has bagged the top rank, despite being chased by China. Both the countries' IT experts were estimated at over USD $150 billion last year. However, in 2020 both countries will face fierce competition from Eastern and Central Europe. According to sources, countries like Poland, Belarus, Ukraine, and Romania are working vigorously to turn into IT outsourcing hot spots. Ukraine is a frontrunner in the league with its 1666,000 software developers.
Quality Over Cost
Initially reducing overall cost was the sole aim of hiring an outsourcing firm but with the time companies expected quality as well. The new decade will witness a major transformation from being price-oriented to people-driven. Offshore development companies will work with their clients while equally sharing the risk of the projects.
Increase in the Use of Collaborative Tools
Collaborative tools were launched to provide a helping hand to a large number of individuals working together to accomplish a common objective. The rapid growth in offshore development has fuelled the demand for collaborative tools while acting as a bridge between the company and clients. These tools ensure transparent communication, time management, agile methodology, and unnecessary costs. Trello, JIRA, and Yammer are some of the most used collaborative tools.
Blockchain Technology
Introduced in 2017, blockchain offers lucrative benefits like enhanced resilience, reduced costs and intricacy, a higher speed of digital transactions, and strongly diminished probability of data duplication. Its competent benefits have made a way into the outsourcing world. According to a recent research, offshore development center across the world will demand blockchain now more than ever to work on such projects that require the incorporation of blockchain principles.
Keeping up with the ever-changing outsourcing trends can be quite a task, however, once adopted can bring irresistible potentials. In the wide array of options available, choosing the ideal is a little daunting, to begin with. Though cost and quality are the key features to be considered, but to stand out the competition factors like performance, credibility and reliability are also important. By staying abreast of the constantly evolving technology trends and adapting well, companies can enjoy success irrespective of any challenges which may arise in the future.
Assess your business potentials and find opportunities
for bigger success