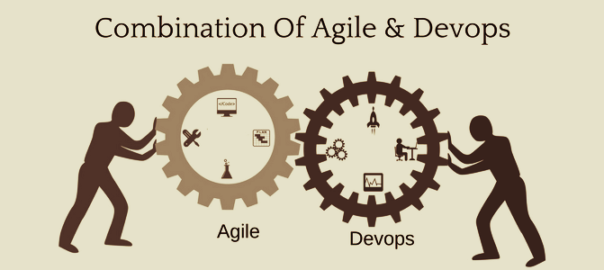 Agile to DevOps: A Case of Succession or a Compliment to Each Other?
As popular belief would have it, apex business enterprises are topping the charts because they run on SAP. However, their real ambition is to provide an enhanced user experience. Enterprising giants like  Facebook, Sony Pictures, Walmart and their likes work persistently on better ways to engage customers/users hence, they are always on the lookout for better, advanced and simplified technology for their customers to work on the end product. One way to achieve a great end result is to adopt an improvised methodology for an enhanced software development life-cycle (SDLC).
Agile and DevOps are two of the most opted contemporary SDLC methodologies which have kept the technology business arena running successfully. In the age of the digital revolution, dynamism is pertinent and expected by the clients. Agile gives that. Both Agile and DevOps streamline development processes while providing chaos-free and seamless methodology. As the name suggests, Dev (Development) + Ops (Operations) was brought into existence with an aim to infuse agility not only in the 'Development' but also in the 'Operations' area.
Is DevOps a replacement to Agile?
Well no! It's a myth. For all practical reasons, Agile is a better alternative to the redundant Waterfall methodology, when in fact, DevOps compliments Agile and should not be considered as just a successor to the former. Continuous improvement in the technologies and complex client's demands has increased challenges for the developers even with agile process. DevOps seemed to have dealt with those challenges well.
Evolution: Agile evolved into DevOps
In the beginning, DevOps wasn't invented with an aim to become a successor to an already established Agile methodology but it was eventually realised as a viable successor. DevOps has gained major momentum in the software development industry of late. Introduced in the year 2001, Agile unveiled a rather competent approach to software development. However, the need of the hour changed and development experts sought another approach which would promote feedback oriented system, hence, the DevOps. The methodology symbiotically merges development with the environment in which the process takes place. It revolutionises the application lifecycle by boosting automation for code development, constant review integration, and easy version control. Meanwhile, today companies enjoy a true cross-functional self-organizing team that works on a simple, chaos-free and smooth communication paradigm.
Small enterprises and IT startups were the first to adopt agile but eventually, as the methodology matured, bigger organisations started picking up with the process which developed into a valuable and widely accepted SDLC trend which has now become a pivotal part of the IT ecosystem. The practice holistically updates and automates the software delivery life-cycle. The need for continuous integration (CI) resulted in a vital need of developers in each phase which was gratified by the DevOps initiatives.
The Emergence of Continuous Delivery (CD)
In the words of Kurt Bittner, principal analyst at Forrester Research, "If agile was the opening act, continuous delivery is the headliner." DevOps and CD are touted as the successors to Agile which have provided startups as well as large enterprises like Fortune 1000 companies to widen their enterprise horizon and obviously their value. Organisations are merging both technical and processes framework to meet complex and critical developmental and enterprising requirements. CD is a procedure that unlocks lucrative potentials DevOps by blending the salient features and tools of both Agile and CI. From a technical standpoint, continuous delivery is a software engineering and development approach that effectively shortens and streamlines the development cycle which makes the product flexible enough to be released anytime. The process demands regular straightforward and iterative deployment process.
IT landscape is prone to unprecedented inventions and upgrades in the existing technologies in resolving the complexities and DevOps comes in as no surprise as it eliminates issues like a miscommunication between operational and development teams. Truth be told, this is a huge deal. On a concluding note, DevOps is a lot more than just automating the entire software development pipeline and it is, therefore, safe to say that DevOps compliments Agile rather than being yet another successor to the latter.
Assess your business potentials and find opportunities
for bigger success