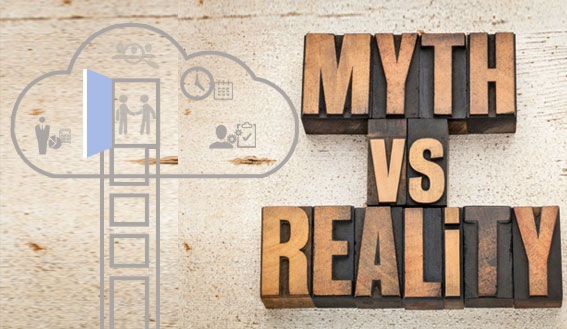 Debunking 7 Biggest Myths of HRMS
When hiring any HRMS software company in Germany, many persistent myths surround the debate. Whether they breed bitterness toward HR personals or simply dishearten the company's employees to access them, the impact is detrimental. However, as its very aim suggests, HRMS ensures seamless functioning of each department and various teams to achieve organizational progress. Whether your employee seeks help regarding job profile or your HR reps want to unburden their mundane responsibilities, the automated HR system acts as an invisible agent that integrates every aspect.
Undermentioned are 7 biggest myths that might act as laggards when you are opting to hire a great HRMS software company in Germany:
"HR software is only for a large organization and is costly."
HR software is a tool for every kind of business, despite size and type. It's a frugal system that can be customized as per the organizations' prerequisites. Indeed, it demands implementation and maintenance costs but it reduces overall business cost and improves employees' productivity.
"Office data is not secured in the software store."
This myth is equally funny and a serious one as well because an automated HR system guarantees high security. The system can be referred to as the safest storehouse that comes with features to accumulate information that can be easily monitored by control panel members.
"Technology will eliminate HR reps."
It's true that most of the tasks of HRMS are to automate iterate and cumbersome HR tasks but there is no way it will kill human jobs. Despite being the smartest, to run smoothly and aptly HR software requires human brains.
"You need to be an expert to run HR software."
The biggest reason why HRMS came into being was to ease the HR tasks with its simple and user-friendly operating language. One doesn't have to hire an expert along with an HRMS software company in Germany to reap the lucrative benefits of an automated system.
"You need immense knowledge to run an HR software."
The aforementioned description suits this myth as well. HRMS companies specifically keep in mind to deliver the simplest user interface and quality navigation. Anyone with the slightest knack for technology can use the HR software without any hassle.
"HR software misleads interaction between the HR team and employees."
The automated system doesn't create any chaos or misunderstanding between the HR team and employees instead it induces healthier relationships between them. The software helps employees in attaining required information about the work plan while allowing the HR team to easily monitor their work plan.
"Automated HR system covers specific areas only."
HRMS is a comprehensive solution for the entire HR department. It not only removes the burden of mundane and repetitive tasks from the HR reps' shoulders but also takes care of everything including attendance, maintaining employee records, making unlimited business reports within minimal time and effort, and analyzing employee's productivity.
Assess your business potentials and find opportunities
for bigger success