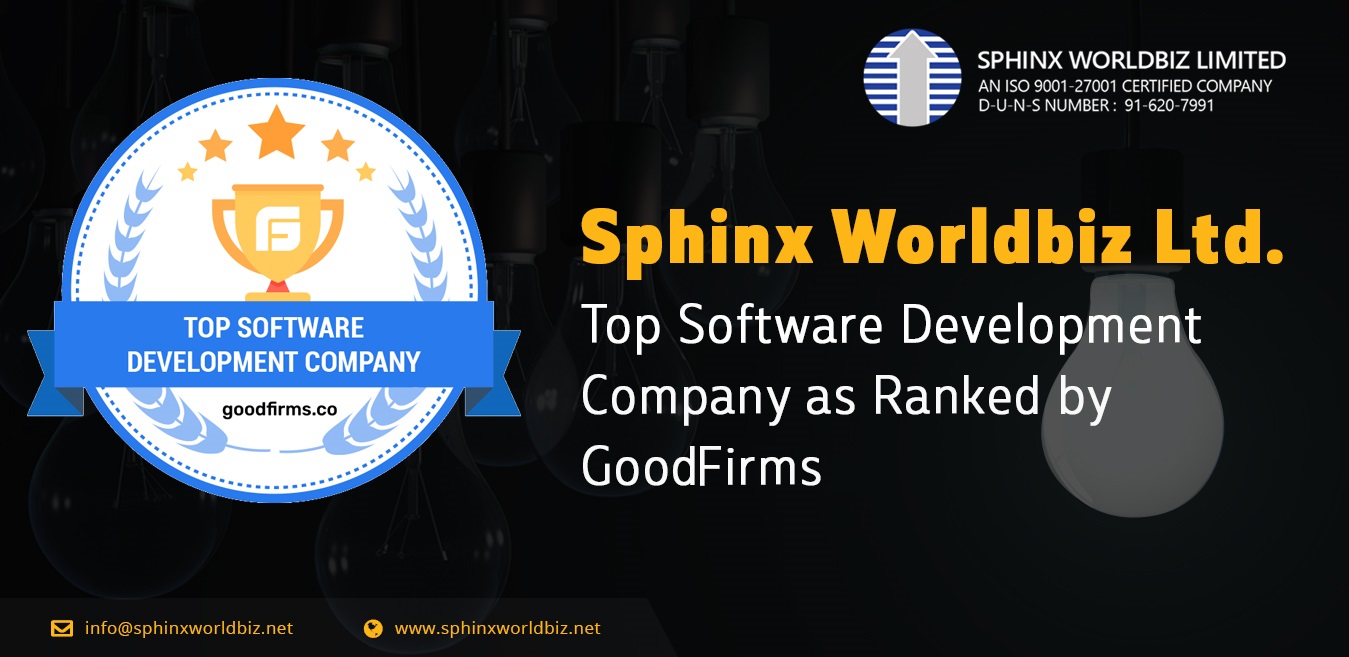 Sphinx Worldbiz Gets Ranked as a Top Software Development Company by GoodFirms
Bringing innovative solutions to businesses, Sphinx Worldbiz Limited takes India places as it tops the leader board for being a top software development company at the GoodFirms business-listing.
Thursday, 8 May 2020– Sphinx Worldbiz Limited has recently been ranked by GoodFirms, a highly trusted USA-based business listing portal, as a top software development company. Sphinx Worldbiz is a premier software solutions and technology provider offering customised application development and product engineering services across the length and breadth of global industries. The parameters on which Sphinx Worldbiz has been judged are its ability to deliver solutions that are not only tailor-made as per the client requirement but also the fact that they shine in the business world.
Sphinx Worldbiz's software and mobile application development solutions use the latest technologies to keep businesses ahead of their competitors. The company offering excellent services in software development, artificial intelligence, and mobile app development to help their clients win against their competitors. Offering world-class services in software development, Sphinx Worldbiz manages to cater to a wide customer group. The company offers a complete range of managed services and backend support. GoodFirms found Sphinx Worldbiz doing exceptionally well in its services.
One of the other parameters based on which Sphinx Worldbiz was judged as a high ranker was its appreciation by the clients. The customers are highly satisfied with the Sphinx offerings. Thus, giving positive reviews about them.  Carl Barck-Holst, CTO at ISAP Software AB has rated Sphinx Worldbiz 5-star based on their team support, attention to detail, and on-time deployment of the product. The proven track record and the result-driven team has made the firm make its mark amongst the top software development companies in Germany at GoodFirms. Barck-Holst, in his statement of appreciation, in his reviews stated that "Sphinx has over the years helped us with several projects, most recently with an implementation of a reimplementation of an outdated system to make it contemporary in its user experience and functionality. In this project, we were supported with all the aspects from conceptual design to a tested and deployable product. The team has had great attention to details, on-time delivery, and has understood the product and requirements extremely well. I am happy to recommend their services to similar endeavours." He also added that "we really appreciated that we had the same staff over the project and that they put a lot of effort into understanding the project."
Sudhanshu Surana, Director, IT, Sphinx Worldbiz is elated to have received this stature on the GoodFirms business listing and has said that, "We are excited to have been listed yet again on a prestigious listing for our work. We are dedicated to serving our clients with the best the industry has to offer. We have all the intentions to stay put on the GoodFirms leader-board as a top ranker." Talking about the services in the last few months especially, he has quoted that, "Even when the world is on lockdown due to the Coronavirus pandemic, the IT industry and Sphinx Worldbiz being an essential service provider have ensured to complete all the projects in time. We have been successfully running the show, surviving the dwindling economy, keeping the projects alive, and completing them. We have worked hard to bring in a variety of contemporary technologies that will forge a pathway for bigger enterprises in running successful businesses and contribute to strengthening the economies. AI, blockchain, big-data, data-science, mobile application development, and video analytics are a few of them. "
About Sphinx Worldbiz
Established in 1996 and situated in India, USA, Germany, Sweden, the UK, and Australia, the firm has so far completed many successful projects. Sphinx's major market is spread across the US, the UK, the Caribbean, Europe, Australia, and APAC. It is an ISO 9001: 20008 & ISO 27001:2005 along with Dun and Bradstreet certified organisation. Reputed for offering flawless customer experience, the company acts as a technology partner with many software companies globally. The company's exposure to varied industry segments has made them the first choice for prospects. The firm has leveraged its team competencies to strategically offer desirable results.
About GoodFirms
GoodFirms is a USA-based online B2B business listing platform that connects seekers and companies. This portal aids seekers to find the best software development company fitting their requirements. The companies registered at GoodFirms have to pass through an evaluation of Quality, Reliability, and Ability parameters. After evaluation, those firms that deliver outstanding results are added to the GoodFirms list of best companies. This, in turn, helps prospects find the right firm for their projects.
Assess your business potentials and find opportunities
for bigger success