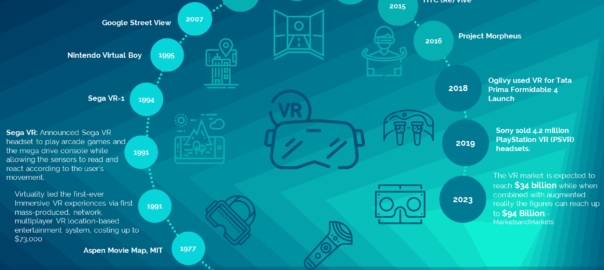 The Evolution of Virtual Reality
Virtual Reality has become one of the top technologies to be used by the marketers to market their products and services and is being used in almost every industry for a first-hand viewing experience before the deal is signed. Besides, VR goggles are nothing new to the millennial generation and slowly, it has made its way to the comprehension of elder demography as well. It is interactive, affordable and very engaging at many levels for users of all ages. Google's cardboard is one of the examples of a low-cost VR device that allows the viewer/users to experience the virtual world for both gaming and experiencing a new viewing experience.
The said infographic lays out rather detailed, chronological advancements in the life arc of VR as a technology and how it has been integrated as a marketing tool and the final product itself. Right from the very concept of virtual experience on a stereoscopic device to gamer's the then paradise- Nintendo to Samsung for a redefined viewing for its users to marketers' hand-picked exhibitionary device to the current gamers' paradise- Play Station, everyone is using VR and very creatively at that. An extension of AI, VR is cool and is here to stay.
Assess your business potentials and find opportunities
for bigger success