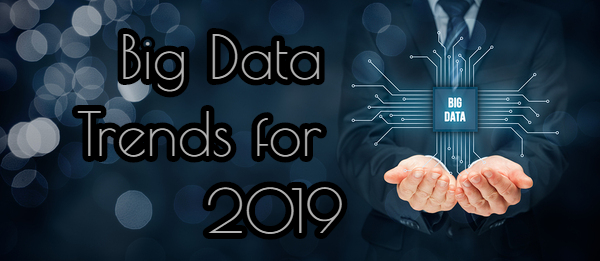 Emerging Big Data Trends to Watch in 2019: Keeping Up or Falling Behind?
Ever searched for a product or service and later seen an advertisement popping up on your Facebook news feed? If yes, then congratulations, you have been re-targeted. It shouldn't be a surprise as companies collect data to target their audiences for better customer relations with the help of Big Data.
Big Data has gained lot of traction but, are you really clear about the meaning of these two words? How it is impacting our daily lives and why big firms are using it? To put it simply, Big Data is a large set of unorganized data that are computationally analyzed to unfurl the trends and patterns on a certain subject. From small firms to established enterprises, the process has become one of the most promising technologies of the epoch.
It is surprising to note that in every two days we create as much information as we did until 2003 and over 90% of all the data globally is created in just past two years. It is mind-blowing to see how big data is increasingly becoming the backbone of every industrial sector. Meanwhile, people are looking for the answer if big data will grow or fall behind in the coming times? Let's dig deeper and look at the possible trends for Big Data in the coming years.
Data Silos will Continue to Boom
When Hadoop boomed five years ago, there was a possibility to consolidate all the data onto a single platform regardless its nature- analytical and transactional workloads. However, the prediction panned out in the presence of many challenges. One of the biggest challenges was the different data types that require different storage units. From relational database, HDFS, object stores to time-series databases, all have their own obstacles. Therefore, it will become complex for developers in maximizing strengths while packing all the data into one size. However, cloud data stores like Hadoop and S3 are helping companies to store their data in a cost-effective manner. But that doesn't mean data silos will decrease especially in the absence of strong centralizing force. So, we might have to get used to it!
Enhanced Data Retention Policies
According to Carlos M. Meléndez, chief operating officer at AI consulting firm Wovenware, it is not essential to store every data forever. Only some needs storage for some time. Coming years will focus on machine learning in a way that will clean and protect the integrity of stored data. Also, it will have automated flush feature to dispose such data which is no longer needed.
Don't worry, the data will not be lost forever. You can recover the disposed data anytime as algorithms will be scripted in a manner that the backup feature will be provided.
A CIO Showdown
 As per James Markarian, CTO of SnapLogic, "The days of forgetting that the 'I' in CIO stands for 'information' are over." He added that CIO will not only be limited to infrastructure but will also become a process to manage and create strategies for company's data. By the end of this year, the process will pick up steam due to digitization and data transformation.
Skills will be Proliferated as the Tech Evolves
As it requires skills and knowledge to manage and run the data in the right stream, thus in coming years, the demand for any individual who can infuse neural network into final production is expected to increase exponentially. There is plenty of scope for folks who have a good knowledge of Matlab, Scala, C, and Java but Python will continue to dominate among all the languages. Meanwhile, data engineers who know Spark, Airflow, and databases will tend to grow. Machine learning engineers will not remain behind in the Big Data world as well.
In a Nutshell
Indeed, converting huge unorganized data collections into an actionable insight is a complex task. But Big Data experts and industry big-wigs surely see keeping up with the technology to leverage information for better customer relations. Experts are analyzing legit, substantial, ethical and technical hurdles in Big Data and AI processing, but its promising benefits are difficult to ignore.
Assess your business potentials and find opportunities
for bigger success