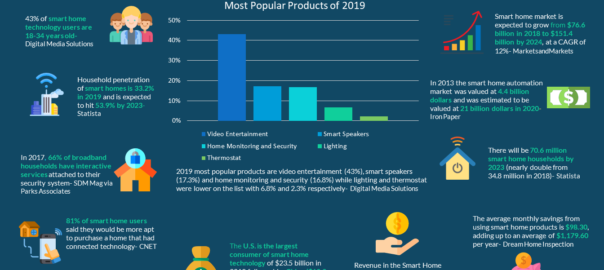 Home Automation: Stats and Forecasts
For demography of 18-34 years old automation driven smart home is the way to live in the 21st century and they justify the trend as well considering it's affordable, it is technology-driven, and the contemporary generation can manage rather well in the presence of automation as it is time-saving as well. Besides, it is on an all-time hit with the penetration of artificial intelligence-driven smart homes to 33.2% and is expected to grow about 20% more. Gradually, as the trends suggest, home automation is going to be a common practice for home dwellers across the major countries of the world, besides, it is slated to be a $21 bn market by 2024. Video entertainment and voice assistants are top home automation products in use today.
The systems are used also because they save not only physical efforts but also are so light on the pocket, allowing the user to save over a $1000 annually, which is a decent sum to save, even for dwellers within higher income slab. All set aside, the comfort level rises so much that you do want to spend more time in your home sweet home. This goes on to show that a house perhaps is fine without life-easement systems such as home automation but a home sure isn't!
Assess your business potentials and find opportunities
for bigger success