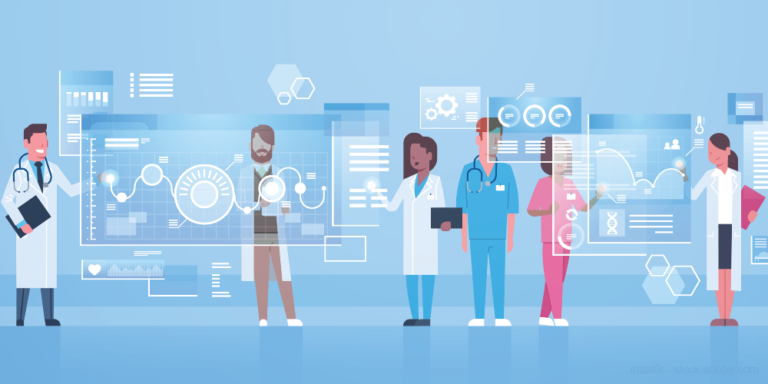 Surging Trends of 2020 Impacting Healthcare with Digital Transformation
Digital transformation services in the healthcare industry propel telemedicine, blockchain electronic health records, (AI)-enabled medical devices, interconnected medical devices (IoT), and many more concrete facets. With constant innovation and evolution in digital technologies, the healthcare sector can finally streamline physician's work, patient experience, eliminate human errors, optimize systems, and lower costs. However, unlike every other industry that is racing to incorporate digital transformation solutions into their business models, the health sector is lagging way behind. In a recent survey conducted by Adobe, only 7% of healthcare and pharmaceutical companies together had invested in digital transformation solutions, compared to 15% of companies in any other industry.
Digital transformation in 2020 brings new opportunities and trends for the healthcare industry to buckle up for grasping the fierce competition led by futuristic technologies. From enhancing the patient experience through virtual reality to wearable medical devices these trends of digital transformation will mold the entire industry of health.
On-Demand Healthcare will be on High Rise
'On-demand' services means patients wanting healthcare service at their convenience, on their time, and wherever they happen to be. People are becoming smart and expect the health industry to pace up with digital innovations especially mobiles and their applications to seek on-demand healthcare service due to their tight schedule. According to a 2018 Global Digital suite of reports conducted by 'We Are Social' and 'Hootsuite' over 4 billion people are on the internet, giving a huge opportunity to the healthcare domain to offer their services. Nomad Health, an NYC online marketplace connects doctors directly to medical facilities for short-term activities, helping medical workers to provide on-demand healthcare. It works in specific conditions that complement their talents, expertise, and schedule.
Big Data will make Big Impacts
Big data offers companies with insights from social media, online transactions, eCommerce, and financial transactions to identify patterns and trends for future use. Incorporating data analytics into healthcare models can lower medication errors through patient record analysis by signaling doctors and patients during a latent risk of a medication error. Concurrently, predictive analysis can allocate proper resources at the right place and time by cumulating future patient admission rates. It not only saves money but also decreases emergency room waiting times during the understaffed situation.
Treating patients with virtual reality
A decade ago, telling people you could alleviate their suffering through a device alike to a video game, would have stomped many people. In 2018, however, the emergence of Virtual Reality (VR) was nothing less than pièce de résistance of digital transformation in the medical sector. A multitude of applications of VR profoundly reshaped the entire process of patient treatment. Millions of people across the world are still struggling with chronic pain. As per the report of CDC, in the only U.S., over 50 million adults were suffering from chronic pain in 2016. VR technology has been a safer, more efficient alternative to drugs that not only treat pain, but almost everything from strokes to a post-traumatic stress disorder, and anxiety. According to Grand View Research, the global market of virtual and augmented reality is predicted to reach $5.1 billion by 2025 meaning from startups to pharmacy giants everyone is betting over the pioneering technology.
The Growth of Wearable Medical DevicesThe digital transformation momentum in healthcare in 2020 looks quite propitious, doesn't it? The above-mentioned guide is like a compass to navigate any healthcare company's way through the digital domain while constructing transformative experiences for workers, patients, and clients.
Bygone are those days when patients would consider a yearly physician appointment to determine if something's wrong. But in the digital age, people have become more cautious, keeping a regular check on the details about their health more frequently. To contemplate this trend, healthcare companies are investing heavily in wearable technologies that can monitor and receive alarm during any major health event. A survey conducted by Market Watch, the wearable medical device market is believed to accumulate more than $27 million by 2023, a staggering leap from almost $8 million in 2017.
Assess your business potentials and find opportunities
for bigger success