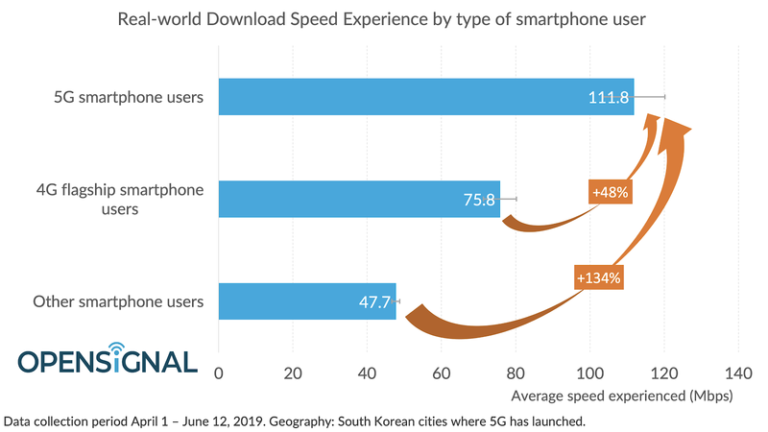 Transforming the Landscape of Mobile App Development with 5G
Transforming the Landscape of Mobile App Development with 5G
The advent of 5G technology has spiked excitement not only among consumers but with mobile app developers, technology-driven organizations, and mediators as well. As per the GSMA's 2019 research, 5G will cover over 15% of the global market by the year 2025, with over 1.4 billion devices running on a 5G network. Needless to say, the marketing buzz surrounding 5G networks will not only coax the mobile app development market but will unfurl new and unprecedented opportunities for developers. Moreover, the surging technology will let mobile app developers discover, develop new platforms and apps that will offer robust, more bespoke user experience.
5G networks assure strong mobile connectivity while enhancing the experience for smartphone users by providing strengthened connectivity speed reaching over 10 gigabits per second and quicker data sharing. This will make existing wireless technology faster by 10 times. The exhilarated data speed will transform the ways people communicate today. However, when it comes to hiring mobile app developers, speed isn't the only factor to consider but many other notable features which are mentioned below:
Higher Speed, Lower Latency
5G is approximately 100 times faster than 4G, therefore is all set to overwhelm LTE in the terms of speed. It will hold the potency to transfer any data with the whopping speed of 300 Mbps. This will bring the complaint of lower latency or delay in loading to an end among mobile device users and developers in real-time. 4G networks offer an average network latency of 50 milliseconds, while 5G will curtail the latency to only one millisecond, ensuring fewer network delays and interruptions.
Connectivity
5G will bring enhanced connectivity, enabling seamless IoT implementation in future mobile applications. This feature of 5G networks will subjugate the existing problems and restraints that come with 4G. Moreover, it will accentuate competencies to cope up with the colossal network traffic while infusing seamless connections between apps and hardware.
Better Precision
The enhanced 5G bandwidth will bring improved responsiveness and better precision competencies as it will cover all the cellular spectrums. The future mobile network will offer 30 GHz to 300 GHz range radio frequencies and shorter wavelengths as compared to 4G. This will help mobile app developers to leverage high-precision GPS-enabled services.
Enhanced AR and VR-Based Apps
AR and VR apps are at the nascent stage in the mobile app development spectrum. But after the arrival of the 5G network, developers can easily harness the power of AR and VR to provide a better online experience. The coming network and its lower latency and enhanced operational speed will help developers to easily integrate these complex technologies flawlessly into mobile apps. Also, improved mobile broadband (eMBB) will help mobile app programmers to develop unprecedented user interfaces for tailored use such as for schools, factories, homes, and hospitals.
Assess your business potentials and find opportunities
for bigger success