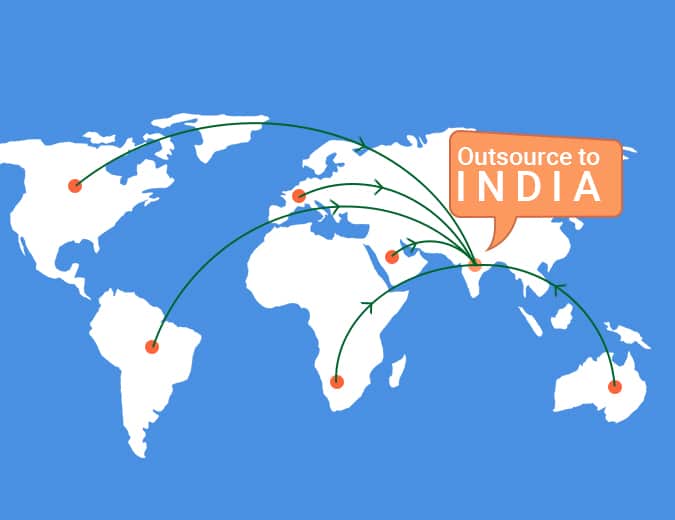 Offshore Development Centres in India: The First Choice of Global Enterprises
Today, each discipline of the world is digitally revolutionising to surpass the erratic market and its competition. With this dilemma, offshore outsourcing is becoming a saviour to companies of different sizes, sectors, budgets, and requirements. When it comes to offshoring or outsourcing, India is the chart-topper on everyone's list and for all the good reasons.
With pertinent and quality IT services, offshore development centres in India have become the ideal choice for companies across the world. The country has also emerged as a back-office service provider around the world. Today, companies that are in necessity of quality and professional online presence, offshore programming, and web development services prefer Indian offshoring companies.
Indian software companies are known for experienced and high skilled development specialists and designers that deliver high-quality services without compromising industry standards without costing much on the pocket. They are associated with several leading international companies because of the quality of work they deliver. Based on their knowledge and specialised skills, businesses and organisations can hire an Indian offshore development centre to achieve the project within the stipulated timelines. But why mostly India? Is it just the population? Let's see why:
Large Pool of Talented Resources, Obviously
Counted in the last census, India currently has over 1.3 billion people with approx. 3.1 million students holding educational degrees in different fields. This vast tech talent enables India to become the top choice to deliver quality offshore services in various sectors.
Higher Commitment Despite Time Zones
The Indian workforce is globally known for its work commitment and loyalty. There are companies in India that work 8 hours a day and 6 days a week. Also, Indian offshore companies offer round-the-clock services to keep your business going smoothly despite global time zone differences.
Flexible Pricing Options
The country provides outsourcing services to countless companies of every size and type across the globe. This offers enterprises vast choices to choose from for an ideal offshore company with a range of low-cost pricing options. According to a survey, when hiring an offshore development centre in India, a company saves more than 65% of its operational expenses while increasing profits.
The Promise of At-Par Infrastructure
With constant efforts, today India has become one of the 10 fastest growing economies in the world. The country employs state-of-the-art technologies in all sectors with the best solutions utilising the latest equipment or software and high-speed internet bandwidth for constant support and transparent communication.
Consistent High-Quality Services
The high quality and timely delivery of the services enable India to remain in the first position despite solid competitors. Offshore development centres make sure the client receives the fastest turnaround time, significant cost savings, and optimum quality.
An outstanding state of art technologies amalgamated with rich talent and steady economic growth has made India stand tall in the outsourcing business. With an ideal offshore development centre in India, companies and organisations can get dedicated resources and infrastructure at their fingertips. India offers the best deals which include not only product development but also fully dedicated and scalable teams of developers and testers who optimise and maintain software applications regularly. However, before hiring a professional company, it's important to understand your company's requirements and what service would befit you well. Once you are done with all this, you are good to go with an offshore development centre in India.
Assess your business potentials and find opportunities
for bigger success