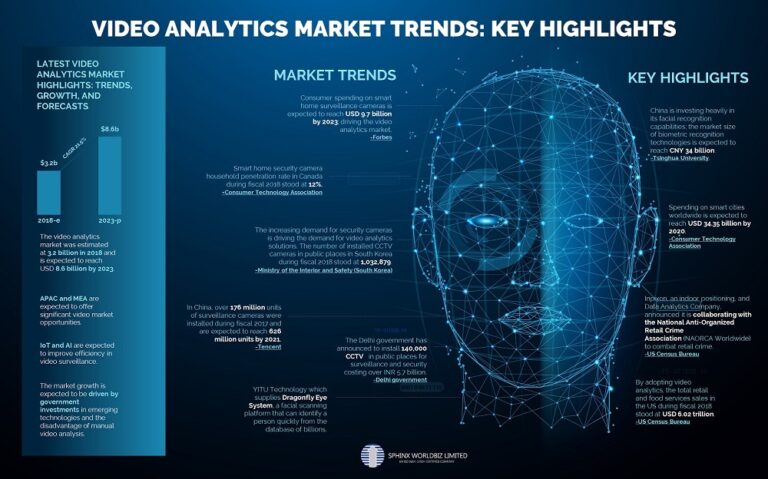 Video Analytics Market Trends: Key Highlights – Infographics
Explosive trends in video technology services have really caught the eye of IT and other sectors. From security, non-motion detection, smart auto PTZ control, public safety to crowd management, video technology has begun to see a big boom among the businesses of different verticals. The Infographic shows surging trends of video analytics and technologies that will rule 2020. According to Forbes, the purchase of smart home surveillance cameras is forecasted to reach USD 9.7 billion by 2023 fueling the video analytics market.
The integration of futuristic technologies like AI, predictive and reactive analytics, IoT like RFID has resulted in prominent demand increase among various verticals like retail, law enforcement, city surveillance, and fleet transportation. According to Consumer Technology Association, the expense on worldwide smart cities that include a large proportion of video technologies will cost up to USD 34.35 billion by 2020. Video technology has become affordable and easier to deploy to the masses. Today, it isn't limited to only security and surveillance; services like traffic management, smart city, smart parking, and detecting COVID patients without human touch are also possible due to this technology.
Assess your business potentials and find opportunities
for bigger success